Newer posts are loading.

You are at the newest post.
Click here
to check if anything new just came in.
Understanding Heel Pains
http://holteasdwmepaz.soup.io
Overview
When walking, your heels repeatedly hit the ground with considerable force. They have to be able to absorb the impact and provide a firm support for the weight of the body. When pain develops in the heel, it can be very disabling, making every step a problem, affecting your posture. There are various types of heel pain. Some of the most common are heel spurs (plantar fasciitis); heel bursitis and heel bumps.
Causes
some heel pain can be caused by rheumatological diseases, and these pains can do a real good impersonation of plantar fasciitis symptoms. Seronegative Arthropathies such as Psoriatic Arthritis, Reactive Arthritis and Ankylosing Spondylisis are the most common types to cause heel pain by producing an inflammatory reaction where the fascia attaches to the heel. This is called an enthesitis. If you have a history of Psoriasis or a family history of other arthritic conditions listed above we recommend you see a clinician about your heel pain to confirm the diagnosis. Another occasional cause of heel pain is loss of the cushioning fat pad of the heel, which can result in a bruised heel bone (calcaneus). If you can easily feel your heel bone through your skin on the bottom of your foot you may well have poor fatty tissue on your heel. Pressing on the centre of your heel should feel like pushing into firm rubber, and your skin should not move easily. If you can pinch the skin under your heel and feel a very hard lump when you press the bottom of your heel then it is likely you have a heel fat pad problem. One simple final test is to walk on a hard floor. If you feel the pain only when your heel hits the ground a fat pad problem is most likely. If the pain mainly occurs as you lift the heel off the ground it is more likely to be plantar fasciitis.
Symptoms
The primary symptom is pain in the heel area that varies in severity and location. The pain is commonly intense when getting out of bed or a chair. The pain often lessens when walking.
Diagnosis
Your doctor will listen to your complaints about your heel and examine you to see what is causing the pain, and whether anything else has started it off. If the cause of your pain seems obvious, your doctor may be happy to start treatment straight away. However, some tests may be helpful in ruling out other problems. Blood tests may be done for arthritis. An Xray will show any arthritis in the ankle or subtalar joint, as well as any fracture or cyst in the calcaneum. (It will also show a spur if you have one, but as we know this is not the cause of the pain.) Occasionally a scan may be used to help spot arthritis or a stress fracture.
Non Surgical Treatment
Orthotics, by treating the cause of the problem, lead to the cure bette than 90% of the time. A small number of patients have waited so long that the plantar fascia has become thickened and filled with scar tissue and are not helped by ?conventional? means. Those are the patients that have, traditionally, required surgical treatment in which the plantar fascia is cut off the heel bone. Luckily, most surgery has been replaced by a relatively new mode of treatment, ESWT or Extracorporeal Shockwave Therapy. ESWT involves the application of multiple shockwaves to the diseased tendon or ligament and has an approximately 85 to 90% success rate. Keep in mind we are talking about this success rate in patients who are ?tough cases,? that is, already had the conventional treatment. The ESWT machines look like miniature renal lithtripsors (kidney stone crushers). There are virtually no side effects to ESWT other than the price as only about 30% of insurance companies are paying for it. They realize that it is less costly and safer than surgery but also know that many more people who would avoid surgery would have no problem getting ESWT so the volume of services would go up. You don?t have to live with painful heels.
Surgical Treatment
At most 95% of heel pain can be treated without surgery. A very low percentage of people really need to have surgery on the heel. It is a biomechanical problem and it?s very imperative that you not only get evaluated, but receive care immediately. Having heel pain is like having a problem with your eyes; as you would get glasses to correct your eyes, you should look into orthotics to correct your foot. Orthotics are sort of like glasses for the feet. They correct and realign the foot to put them into neutral or normal position to really prevent heel pain, and many other foot issues. Whether it be bunions, hammertoes, neuromas, or even ankle instability, a custom orthotic is something worth considering.
heel pad anatomy
Prevention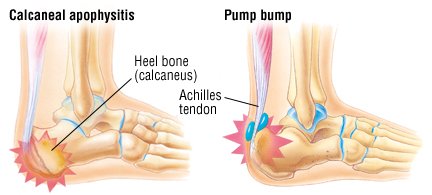 Being overweight can place excess pressure and strain on your feet, particularly on your heels. Losing weight, and maintaining a healthy weight by combining regular exercise with a healthy, balanced diet, can be beneficial for your feet. Wearing appropriate footwear is also important. Ideally, you should wear shoes with a low to moderate heel that supports and cushions your arches and heels. Avoid wearing shoes with no heels.